A Country Talking Past One Another
Our polarisation is in the eye of the beholder.
This is the first of two posts, the second of which, I'll share tomorrow. Today, I explore our present state of polarisation. Tomorrow, this will be the lens through which I set out my thoughts on the ongoing conversation we are having about racism.
---
Do you know that phrase "beauty is in the eye of the beholder"? As we emerge from lockdown here in the UK, perhaps the phrase should be, "our polarisation is in the eye of the beholder." Everywhere we look, there is rich imagery suggesting our polarisation in the online realm has been rendered physical.
Look at this image of a Black Lives Matter protester, for example: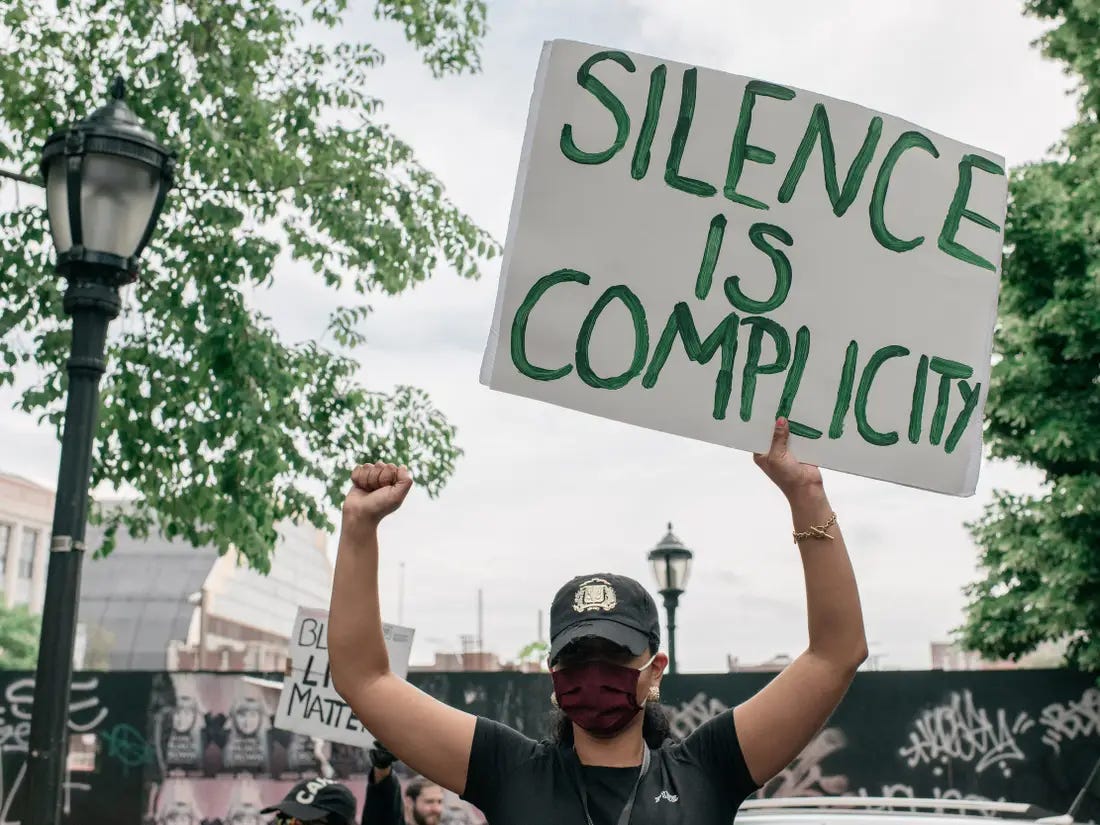 For one group of people, let's call them Group A, the slogan "silence is complicity," is a welcome recognition that being anti-racist is an active process. You can't be considered anti-racist just because you don't say racist things. You have to speak up because in the words of Robin DiAngelo, author of White Fragility, silence keeps "racial perspectives hidden and thus protected from exploration or challenge," and ultimately serves to maintain a racial equilibrium where Whiteness equals dominance.
But for another group of people, let's call them Group B, this slogan represents an assault on freedom of speech. Here's Alexandra DeSanctis, arguing this perspective in an article entitled "Your Silence Isn't Enough" in the National Review:
... each and every one of us must speak — so as not to be complicit in evil — but only to utter the words that the progressive movement puts in our mouths. The result is ideological servitude, a society in which a culturally powerful, tyrannical minority owns the voice of every person willing to go along.
Now turn to this image of a boarded up Winston Churchill statue in Whitehall: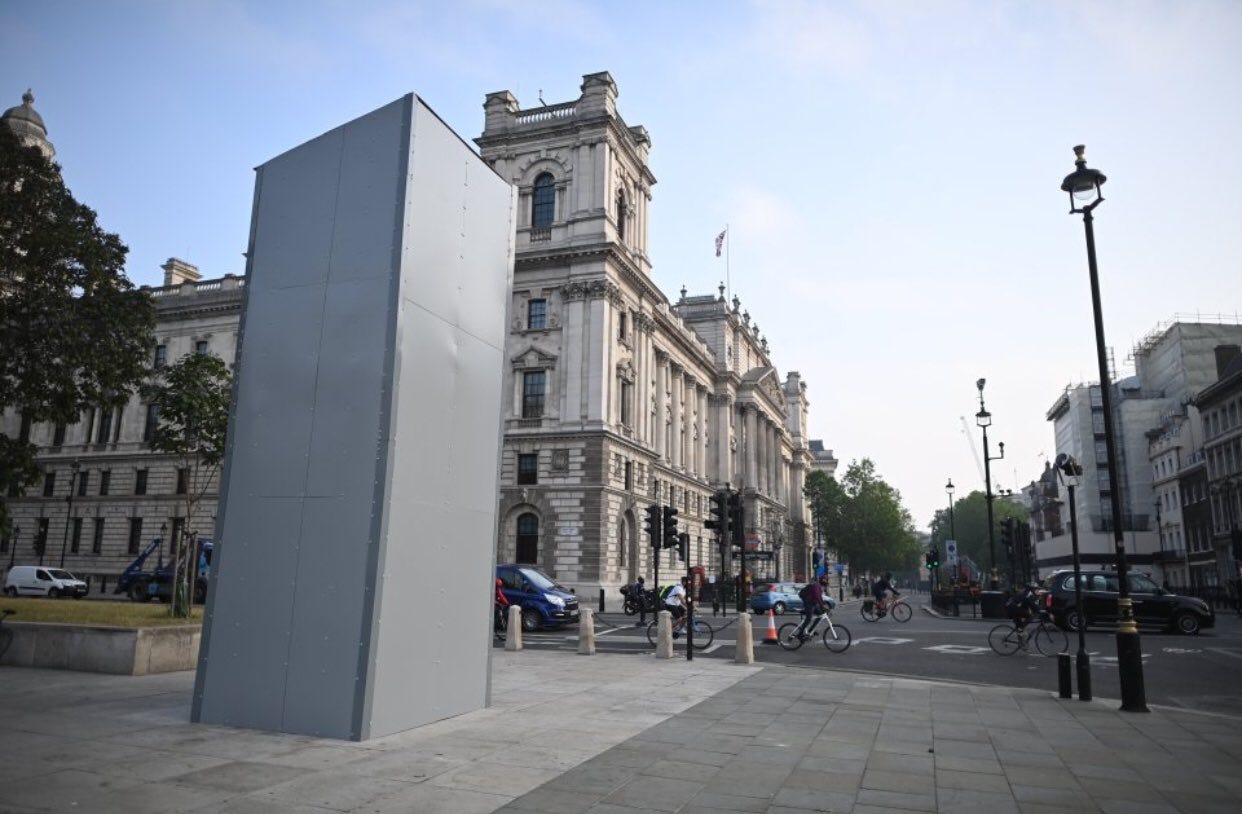 For one group of people, let's call them Group C, such actions are a welcome sign that Britain is being forced to reckon with its imperial past. Britain may have stood against fascism, but don't forget that the British Empire was founded upon slavery, upon racism.
For another group, let's call them Group D, the boxing up of Churchill, voted the greatest Briton ever in a 2002 poll, symbolises that British history is under assault. Boris Johnson represented this perspective when he tweeted, "We cannot now try to edit or censor our past. We cannot pretend to have a different history."
I don't have evidence to prove this definitively, but it's fairly obvious to me that members of Group A are likely to be members of Group C, while membership of Group B probably correlates with Group D.
These images are both connected to the same ongoing national conversation about racism in the UK. But it is becoming increasingly apparent that our polarisation on a range of issues are stacking up on top of one another, to the point that they almost collapse into two different political and cultural identities.
In other words, your position on Black Lives Matter likely predicts your stance on other recent issues and key cleavages that have divided British politics over the last decade.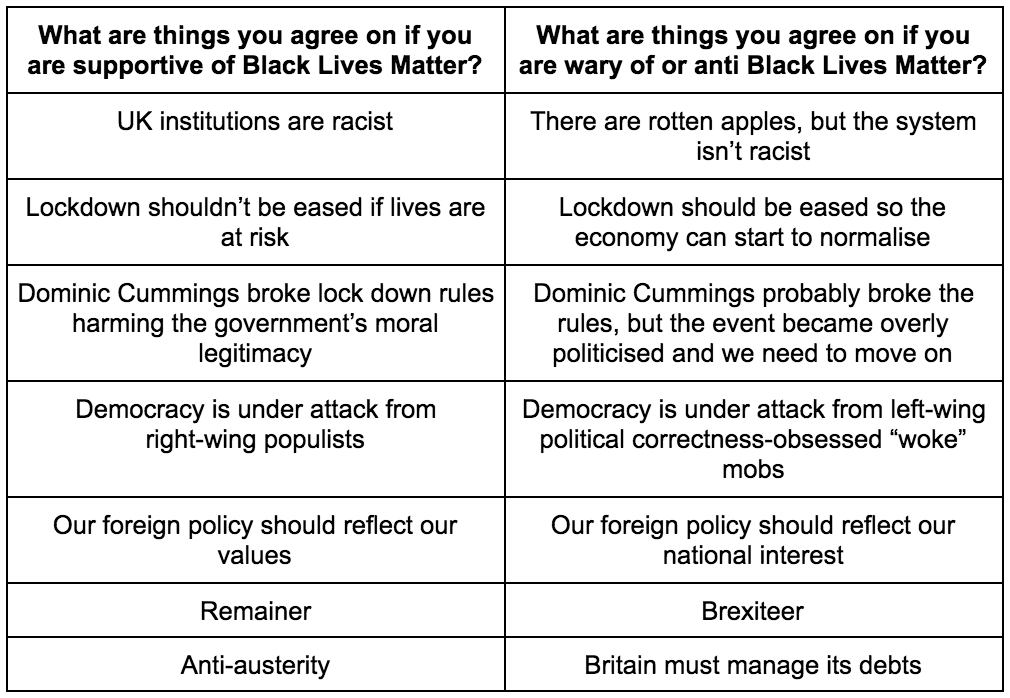 This is meant to be illustrative: it isn't backed by data, exhaustive or absolute as there are obviously variations, but it has at least stood up to scrutiny in conversations that I've had in recent weeks.
So, polarisation on multiple issues can add up to form what in effect becomes an identity. Why does this matter?
This overall identity is powerful. Even if we were willing to compromise on one issue, this identity exerts a psychological force that will, more often than not, overcome any momentary willingness to compromise. It's the same as when your football team has a penalty awarded against them. Your first instinct is to look for fault in the referee's decision.

Each side depends on the other side to give their position meaning. There is a childlike quality to our politics. We are shouting because they are shouting. This dependency also makes any compromise harder because any agreement threatens to close and even erase the gap between the two diametrically opposed identities, revealing their artificiality.

A savvy politician, journalist or activist can convince their followers that disagreement on one issue is actually an attack on a group's entire identity. This is why symbols in the form of statues are so powerful. They offer both sides an easy visual reference point to inflame passions.
Reading all this it would be easy to conclude that we are polarised into two camps. But there is actually a more fundamental divide, between the interested and the uninterested. This divide is something that Ezra Klein explores in his book, Why We're Polarized. Klein shows that the digital revolution has widened the interested/uninterested divide, with greater choice meaning, "devotees [of political media] learn more and the uninterested know less." The media then serves the remainder who are interested. And serving them means serving their identities, which in turn sharpens the left-right polarisation.
Our technology has not yet offered a path for us to overcome our polarisation and in fact, accelerates it. While our politicians seem uniquely ill-suited for the moment. Some are stuck in a bind, seeking the mythical common ground, but uncertain that it exists anymore. Others happily rally their tribe regardless of the consequences. Having now examined the dangers of polarisation, tomorrow I will use it as a lens to explore the ongoing national discussion on racism in greater depth.
---
If you're wondering who's behind this newsletter:
My name is Sunil Suri. I help build social enterprises that reimagine how public services are delivered.
Want more? Thoughts and or feedback?
Follow me on Twitter, check out my Website or drop me a note at sunilsuri.london@gmail.com
And, if you enjoyed this newsletter, please forward it to a friend, and encourage them to sign up by clicking the button below or at sunilsuri.substack.com/
Thanks for being here!
Sunil